Forthcoming EXHIBITIONS
SCHOOLWORK, Crawford Gallery, Cork
January 17th - 10th February 2013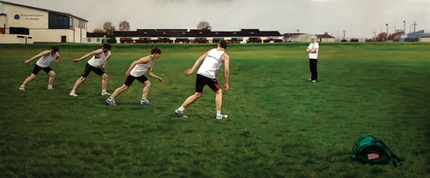 CURRENTLY SHOWING:
SCHOOLWORK, 
VISUAL, Carlow. Until January 12th 2013
NEW LANDSCAPES by WALTER VERLING HRHA and BLAISE SMITH ARHA
Molesworth Gallery, Dublin. Decemeber 7th -24th 2012
PREVIOUS EXHIBITIONS

RHA ANNUAL 2012
MOVING PICTURES Molesworth Gallery, October 2010

VUE Art Fair 2011 November
RHA Annual Exhibition 2011 May -July, Royal Hibernian Academy, Ely Place 
Moving Pictures, Molesworth Gallery, November 2010
DAVY PORTRAIT AWARD, Naughton Gallery, Queens University, Belfast from 26 February-4th April 2010

DAVY PORTRAIT AWARD, Farmleigh Gallery, Dublin  from 13 April - 27 June 2010
WEAPONS
In the Garter Lane Arts Centre, Waterford from Saturday September 12th to Saturday October 31st.
Gallery opening hours: Tuesday to Saturday 11am to 5.30 pm, admission free
Open from 10am to 6pm daily, except sundays from 2-6pm.
There will also be a show of other current work as part of a group show with Pat Redmond and John Ahearne2009 WEAPONS, The  Kilkenny Arts Festival
2009 WEAPONS, The Molesworth Gallery
2009, 2007, 2006, 2005, 2004, 2003, 2002, 2001, 2000, 1998, 1997 RHA Annual Exhibition

2008 WEAPONS, The Hunt Museum Limerick
2008 WEAPONS, Iontas, Castleblaney
2008 Blaise Smith, the Molesworth Gallery
2007 The F word, Contemporary figurative painting, The Molesworth Gallery
2007 RHA Banquet Show
2006 Blaise Smith, the Molesworth Gallery
2006 National Portrait Gallery, London, Bi-Centenary Exhibition
2005 Blaise Smith, the Molesworth Gallery
2005 RHA Banquet Show
2004 Blaise Smith, the Molesworth Gallery
2004 C2: 1995 - 2005. The Crawford Gallery, Cork
2004, 2003 BP National Portrait Award Exhibition, National Portrait Gallery, London
2001 Blaise Smith, The Molesworth Gallery
2000 Blaise Smith: The Millennium Landscape, Kilkenny County Hall
2000 Blaise Smith, The Molesworth Gallery
2000 The Crawford Open
2000 Roadworks, West Cork Arts Centre, Skibbereen
1999 Roadworks, The Sirius Arts Centre, Cobh
1998 Blaise Smith, The Dolmen Gallery, Limerick