PORTRAIT COMMISSIONS
One of Blaise's exceptional abilities as a painter is to capture a sympathetic likeness. He achieves this by working from Life with the subject for several sittings. This personal approach and the interaction allows him to get to know the person. It is, as he puts it, "Like an in-depth interview without any incriminating writing!" By seeing someone in their own environment among their own possessions he is able to incorporate the things that are important to them. The finished painting is in the end a collaboration between the Artist and the Sitter, and perhaps this approach is why Blaise has never had a portrait refused (although he has occasionally done a second version because he is a perfectionist!).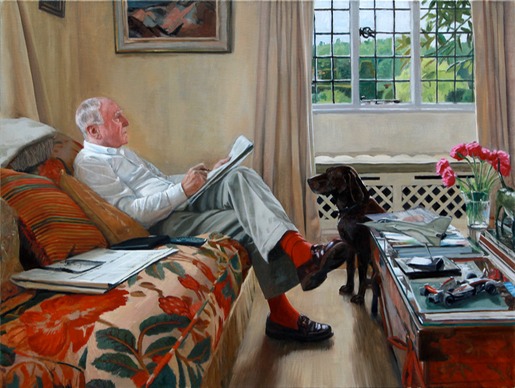 Blaise Smith has also recently completed this portrait of Lord James Blyth of Rowington (at home with Polly). Oil on canvas 30 x 40 inches. Lord Blyth was kind enough to sit for several days at his home in Gloucestershire. He has previously been painted by John Wonnacott whilst CEO of Boots plc, and those of you who know about portraiture will understand that this was no pressure, really.
PRICING
Portraits generally start at around €2,500 for a small portrait of the head. 
See PORTRAITS for further examples
Group portraits, such as family groups, will be quoted for, but in general are more expensive than a Full length Portrait - it depends on the size, complexity and number of figures. 
Number of sittings required : from 4
Will travel within Ireland, Northern Ireland and the UK 
Will travel elsewhere Depending on the circumstances
I am generally happy to paint Children if they are happy to be painted... 
STILL LIFE COMMISSIONS
Because Blaise is well known as an adept still life painter he accepts many commissions for still lives featuring some of the commissioner's own possessions. These are often done as wedding gifts, birthday presents and special Christmas Presents and feature items or themes of significance to the commissioner.
See further examples of Commissioned Still Lives
LANDSCAPE COMMISSIONS
Blaise has also received several commissions to paint Landscapes that are meaningful to the commissioner in some way, again as gifts or personal mementos. Machinery and Buildings are also a favorite subject.